Asbestos Services
We offer testing, removal and remediation of asbestos
As a licensed asbestos removal company, we have the knowledge and expertise to help you manage,encapsulate, remove and dispose of all types of asbestos containing materials.
Based in Auckland, we can service asbestos removal and management projects from Whangarei to the Bay of Plenty.
Can I remove asbestos myself?
Find out more below about the risks associated with removing asbestos yourself and the legal implications you need to know.

Asbestos Health and Safety
We are compliant with the Health & Safety at Work Act, the Health & Safety at Work (Asbestos) Regulations and the WorkSafe Approved Code of Practice. Our team has a vast knowledge of Health & Safety procedures which is proven through:
Our external accreditation to ISO 45001:2018 | Our 100% score with Sitewise | Our 5-star rating with Impac

Class A vs Class B - what's the difference?
Asbestos falls into two categories, friable (Class A) and non-friable (Class B). Find out more below about the differences between the two and the legal requirements about dealing with each type.
What is the difference between friable and non-friable asbestos?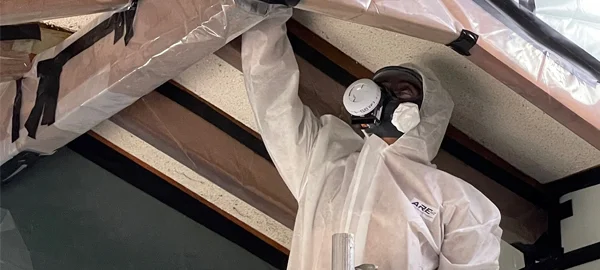 Friable Asbestos
Asbestos that is in a powder form or able to be crumbled, pulverised, or reduced to a powder by hand pressure when dry. While all asbestos has the potential to become airborne, friable is more likely to become airborne.
Textured ceilings, some vinyl flooring or fire damaged asbestos are some examples of friable asbestos.
Friable asbestos MUST be removed by a licensed removal company with workers and supervisors that have passed their unit standard training. This removal work must be undertaken complying with the Health and Safety at Work (Asbestos) Regulations 2016. When choosing your removal company, ensure that they are sufficiently certified and qualified to carry out this work.
Non-Friable Asbestos
Asbestos that is not in a powder or cannot be crumbled, pulverised, or reduced to a powder by hand pressure when dry. It is usually in a bonded form, such as asbestos cement sheet in good condition.
Weatherboards, soffits, fencing, or roof panels are some examples of non-friable asbestos.
Why you should not remove asbestos yourself
There are risks & strict regulations
While many people think that anyone can remove Class B asbestos under 10m2, it is not this straightforward. There are legislative conditions regarding unlicensed people removing asbestos and there are many risks that come with removing asbestos yourself.
Prevent cross contamination of asbestos
Asbestos causes diseases and cancers in the lungs. The main way people are exposed to asbestos is by breathing in air that contains asbestos fibres. Some Kiwis have the 'she'll be right' attitude, or, you may find your builder is keen to remove it themselves to keep a project moving, but with the risk to your health and that of your family, its best to leave it to the experts.
There are strict regulations on asbestos removal methodologies and the way that it is disposed of. Incorrect removal will result in cross contamination to other areas and could release fibres into the air. Correct PPE must be worn (a mask from the local hardware shop is not sufficient), specialist equipment such as Negative Air Pressure Units are required for some works and clearance is to be obtained by licenced Asbestos Assessors.
When you undertake renovations in your home you become a PCBU (Person Conducting a Business or Undertaking), and therefore the health and safety of anyone on your site becomes your responsibility. Get in touch, and let Savy Enviro Services handle the removal for you!