Demolition
Licensed for both friable (Class A) and non-friable (Class B) asbestos removal
SAVY ENVIRO SERVICES IS A GREAT CHOICE FOR YOUR DEMOLITION PROJECT - A ONE STOP SHOP
We can provide you with a quote for the safe, cost effective demolition of your residential property all while focusing on salvage, sustainability and recycling.
Whether you want to demolish down to the slab, remove a pool or driveway or clear the whole site, we can assist you with the process, start to finish.
When choosing to demolish your property there are a number of things you need to consider. Unspecialised trades may offer you demolition services, but they will not have the expertise to deal with asbestos found on the site.
You will need to obtain a survey before the demo can begin. Sometimes asbestos on the site is obvious but sometimes the asbestos can be hidden.
Asbestos was commonly buried in the ground with the house built on top, or the asbestos was used in the formwork/concrete base. This asbestos must not be demolished without appropriate controls in place otherwise there is the real potential for cross contamination across your site, into other sites and into the environment.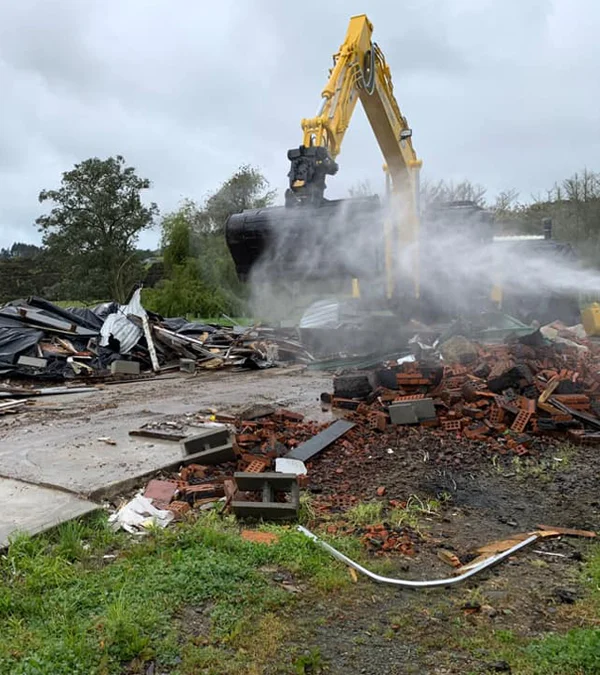 Next steps
If you don't yet have a Demolition Survey to identify where your asbestos is, you must have one before you start the work. Ask us for a no-obligation quote to carry out a Demolition Survey.
Once you engage Savy Enviro Services to assist you with your demolition project, we will arrange a site visit so that we can provide you with a quote, ascertain the best methodology for the demo and to look at the recycling possibilities.
Savy Enviro Services will take away the hassle by checking whether it is safe to dig/demo on your site, review the Asbestos Demolition Survey, create a suitable methodology for the demo and provide you with the correct documentation – such as an ARCP (Asbestos Removal Control Plan) and a SSSP (Site Specific Safety Plan).
We provide demolition services for developers, home builders, construction companies, house-movers and the general public.
Talk to us for advice on your demolition project today!
Savy Enviro Services is experienced in soil excavations and site restoration. Our Class A supervisors will manage your project ensuring that asbestos is removed safely, to Regulation, on time and to budget.
Our free quotes include an initial site meeting to determine your needs, the labour to carry out the work including truck hire and disposal.
Choosing an experienced site remediation company is important as incorrect processes during excavation can result in cross contamination across the site.
Savy Enviro Services are experienced to tackle your site remediation, large or small, ensuring that all appropriate controls and documentation is in place so that the project is completed smoothly and without risk to people or the environment.